VPS Pro Indonesia
---
VPS Pro Indonesia is supported by the latest HPE Nimble Storage Adaptive Flash Arrays
with access times 100 times more faster and higher I / O speeds than VPS SSDs
and a low failure rate with a 99.99% Uptime guarantee for Website and Application requirements
Please Select VPS PRO Package that You Need : Slide Toggle Switch To View Package
VPS SAS Indonesia
---
SAS VPS offers more power and performance if a system is running at very high traffic.
The technology is certainly very suitable to ensure your system continues to actively and safely
with the power of 100 times faster than a regular VPS.
Please Select VPS SAS Package that You Need : Slide Toggle Switch To View Package
Network Information
OpenIXP up to 1Gbps to access national.
IIX APJII up to 1Gbps to access national.
Supported by Equinix peering SGIX, HKIX up to 100Mbps, Equinix up to 100Mbps Openshare so that your server can be accessed with toned from.
Direct access to the server via a CDN network of Google and Yahoo with connection speeds up to 100Mbps.
Direct access to the Facebook servers and to the PGASIX through the network with SGIX connection speeds up to 50 Mbps.
Standard International Bandwidth up to 5Mbps.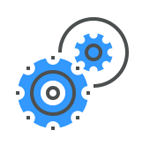 IDCloudHost VPS Technology Allow You to:
Manage Server VPS System Services, System services and process that are running on a vps can stop or restarted at any time through a web portal.
SSH via browsers, Connect directly to SSH and VPS using a browser
Completeness Backup / Restores overall container with once Click.
VPS Repair, Reinstall & Action Logs, Various features to repair your Cloud VPS Indonesia, and the log will help you if happen problem with your vps .
Resource Monitorings, Monitoring CPU, RAM, and disk space.
Installing over hundreds of website scripts on your vps server with one click.
Perform management for your server fully and flexible.
VPS Definition
VPS (Virtual Private Server) is a method of dividing resources (resources) on a single physical server into multiple Virtual Server (Virtual Machines). VPS is often also referred as a server side technology on operating systems and software that allows a machine with a large capacity is divided into multiple virtual machines. Each virtual machine serves operating system and software independently and with rapid configuration.
Best and Reliable Processor
VPS Pro Indonesia with HPE Nimble Storage Adaptive Flash Arrays are supported by the latest Intel (R) Xeon (R) Platinum 8176 CPU @ 2.10GHz so that it will make your VPS server performance more faster, more safer, more accurate and have high durability. We can guarantee your VPS Server with uptime guarantee of up to 99.99%.
Cloud System HPE Storage

Using the latest generation Intel processors with RAM and Storage using HPE Nimble Storage Adaptive Flash Arrays technology then you should not hesitate with the performance of the server you are using.

Freedom of Configuration

You can freely configure the server for your needs (CPU, RAM, Storage, NAS, IPs, Backups, Control Panels, add-ons) and variations of template for Deployment.

Flexible and Measurable

You can downgrade and upgrade the server whenever you want to customize your needs without additional terms and fees.

Monitoring and Backup

Your server is monitored 24/7 from multiple attacks and hardware distruption assisted directly by the experienced IDcloudHost technical support team.
IDCloudHost Service Request
You can request VPS for website and application needs at IDCloudHost. Please fill out the service requirement form where your service pack information will be sent via Email / Phone. You can fill out the IDCloudHost Service Request Form at the following link: https://idcloudhost.com/panduan/penawaran/
Flexibilitas Root Access
Solid-State Drive (SSD)
Unlimited Domain

Premium Bandwidth Unmetered
Enterprise-grade Server
Virtual Server Manager

Scale and Resize
Virtualisasi KVM
Multiple Linux OS & IPs
VPS is perfect for websites and applications use that have very high traffic and other special purposes with support from a wide range of OS to get maximum performance. VPS Service from IDCloudHost is an unmanaged service so you will get the lowest price that suits your needs.
Here are some benefits of using VPS for your server:
Flexible configuration access to setup and make configuration of the server.
Limitless so it can access more toward features that is used as the number of site, email, database, and more.
For those of you who need to install special software as special Perl modules, Red5 streaming, Ruby, etc.
For those of you who want to run multiple supporting software programs.
For those of you who want to increase security by setting itself over the configuration in the form of ports or IP range on the server.
For those of you who want to have much more reliable Security with Cheap and Qualified VPS Server service.
For those of you who use Email Marketing, you can maximize better Email delivery with the VPS Server service.
Cloud Hosting

This server allows multiple users to be on one shared server, so that there will be where users use resourse interchangeably.
Subscribe: Cloud Hosting

Traditional VPS

This allows server used by one user only, so the resourse and usage capacity is very limited to meet your needs.
Subscribe: Server VPS Indonesia

Private Server

Private Server Service is a VPS Hosting service with Manage system available in SSD version for VPS Server needs which is directly controlled by IDCloudHost team.
Subscribe: Private WHM Server

Dedicated Server

This server is used by many large companies and startup for greater resource requirements and security for websites and specific applications with Indonesia Data Center.
Subscribe: Dedicated Server

SAS VPS

This server is like Dedicated Server technology with a combination of SSD and HDD that is perfectly suited for high traffic at an affordable price.
Subscribe: SAS VPS Indonesia

PRO VPS

This server is the best infrastructure at the moment, carrying HPE Nimble Storage technology Adaptive Flash Arrays will make your service 100x faster than other vps.
Subscribe: PRO VPS Indonesia
Softaculous VPS License

Softaculous Auto Installer is an application that helps millions of users to install the application / website with just one click integrated with lots of Control Panel.

IDR 180.000,- / Year | Details

WHM/cPanel VPS License

Cpanel / WHM is a Control Panel that helps you to various activities supporting Web Hosting services that are integrated with each other with a lot of features in it.

IDR215.000,- / Month | Details

WHMCS License

WHMCS is All in One client management, billing, and various features support solution for your hosting business.This feature is very important and simplify the process of Web Hosting Service Provider.

IDR 550.000,- / Month | Details

SSL Certificate

SSL Certificate Services aims to protect information / data that is exchanged via HTTPS then your website will perform data encription and information so that it will be safer to use.

IDR 130.000,- / Year | Details
Perfect Solution for your Business
---
In less than 3 minutes, you get all the services you need.
No obligation for upgrade, downgrade or cancel.